DENICA GORDON-MANDEL, LCSW, M.A.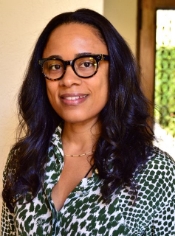 Denica Gordon-Mandel is a licensed therapist specializing in evidence-based therapies including Cognitive Behavioral Therapy (CBT), Dialectical Behavioral Therapy (DBT), and Acceptance and Commitment Therapy (ACT), as well as providing CBT-Based Treatment for Body-Focused Repetitive Behaviors (BFRB). She has undergone training in The Gottman Method and Integrative Behavioral Couple Therapy (IBCT), both of which are empirically supported treatments for partners. Acknowledging the intersectionality of individual sexuality and mental health, Ms. Gordon-Mandel also offers counseling based on the principles of American Association of Sexuality Educator, Counselors and Therapists (AASECT).
Ms. Gordon-Mandel has experience providing therapy to adults and adolescents, treating anxiety disorders, mood disorders, relationship concerns, as well as female maturational transitions such as pregnancy, infertility, menopause, navigating work/life, dating and partnership issues.
Ms. Gordon-Mandel received her Masters in Social Work from the University of Southern California and a Masters in Psychology from Pepperdine University. She has more than 15 years of work experience in organization positioning for major publicly listed company, relating to issues management, internal and external communications, and crisis communications. This professional corporate background combined with her knowledge in psychology positions Ms. Gordon-Mandel as a human behavior specialist that utilizes an integrative solutions approach to therapy, with the goal to build client self-efficacy and resources, so that they can live their own best life.
Click here to download Ms. Gordon-Mandel's CV