Mental Health App Reviews
MoodKit
designed to help you apply effective strategies of professional psychology to your everyday life.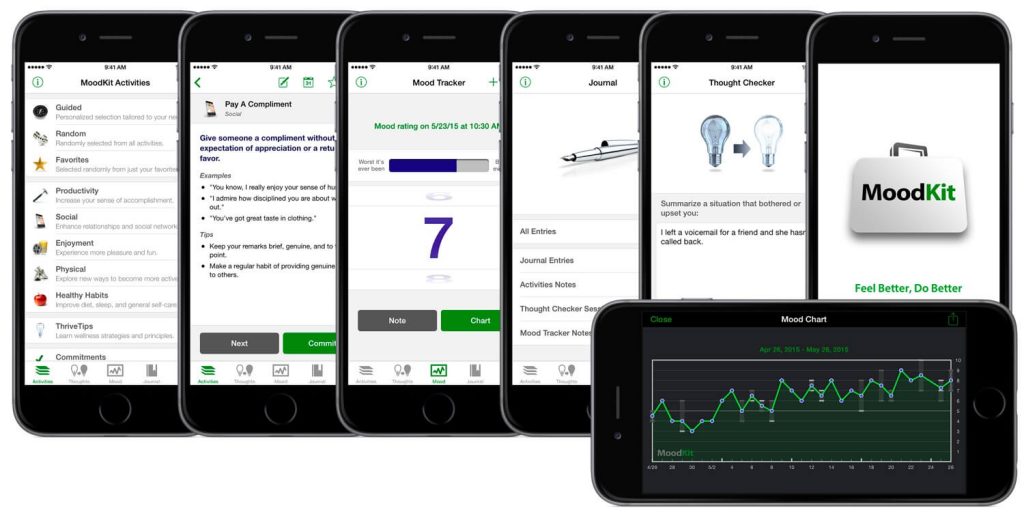 Before the dawn of smart phones and "apps," clinicians relied on patients to detail their cognitive restructuring of negative automatic thoughts on paper forms, or in a journal/diary. MoodKit (Android, iOS), by Thriveport, LLC, is a terrifc app that incorporates several, empirically supported functions to help clients with depressed mood: activities, thought checker, mood tracker, and journal.
Clients do not need an extensive background in CBT to use the app, it is easy to use and affordable, clients can share their recorded information with their therapists electronically, and features of the app can be useful in other problem areas (e.g., anxiety disorders). Perhaps, future versions of this app can include a section on "wins," in which clients can clearly be reminded to track how they are having more positive thinking, rather than just entries on "twisted" thinking.
Here's how to get it: https://appsto.re/us/B6hDz.i
Headspace
Meditation made easy.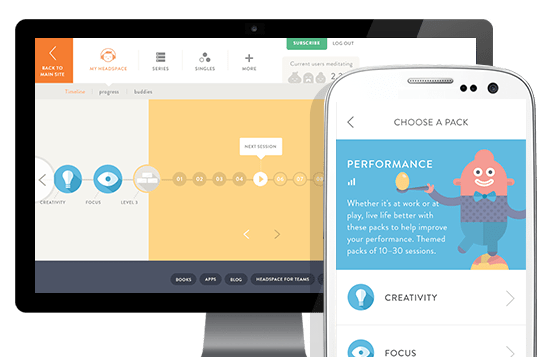 People who are depressed tend to live in the past, while people who are anxious live in the future. What about living in the present? Incorporating "mindfulness" practice each day can help people to do exactly that! Headspace, by Headspace Meditation Limited, (Android, iOS) is an app featuring guided meditation and mindfulness techniques. The benefits of daily meditation include awareness, increased peace of mind, and relief from a variety of negative emotions (e.g., depressed mood, anxiety, and stress).
This app does a terrific job at introducing beginners to the basics of mindfulness with 10 free, 10min sessions, followed by a subscription plan to get access to further, downloadable sessions geared at specific problem areas (e.g., health, relationships, performance), as well as one off sessions ranging from 2-60mins. The user interface is easy to follow with clear instructions and video explanations, and users can set meditation practice reminders. The biggest drawbacks to the app include the cost of the subscription plan (roughly $95 per year), and the inability to track progress within specific problem areas (i.e., rating mood, anxiety, stress, etc.).
Here's how to get it: https://appsto.re/us/WUmzD.i
CBT-i Coach
Looking to get a grip on your problematic sleep?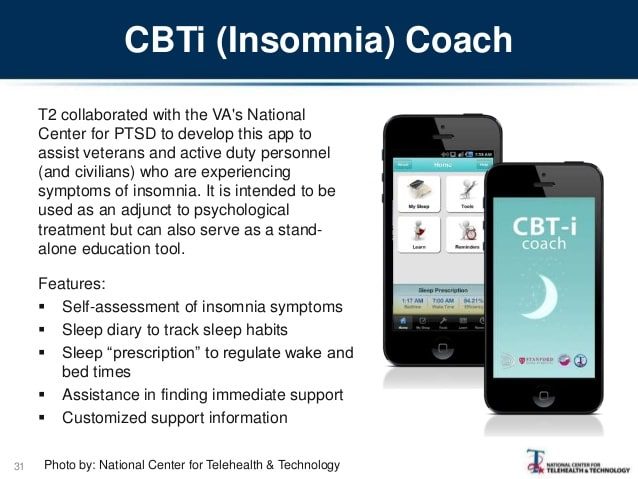 CBT-i Coach (Android, iOS), developed by the U.S. Dept. of Veterans Affairs (VA), combines sleep tracking with educating users on healthy sleep habits. The app monitors time in bed and time asleep in order to determine "sleep efficiency," and tracks data on awakenings during the night. Users learn the basics of sleep and to identify bad sleep habits, a glossary of terms is provided. Two of the apps most interesting features are the tools aimed at "creating new sleep habits," and "quieting the mind," which integrates a mindfulness component.
The app lacks a section that allows users to record thoughts related to sleep, which would be helpful to actively challenge negative sleep thoughts. Of particular use to therapists are the reminders for clients to complete out of session homework, and an export feature to email their sleep data prior to their next session.
Here's how to get it: https://appsto.re/us/ezigN.i